NEWS
REPORT: Charlie Sheen has Offered Brooke Mueller $1 Million to Stay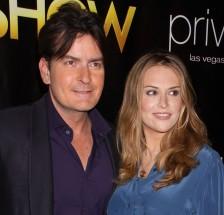 Charlie Sheen will reportedly increase his wife Brooke Mueller's prenup by $1 million if he stays out of jail and they remain married.
Radar Online reports that Brooke has told friends that Charlie's team made her the offer after his arrest on domestic violence charges after a Christmas Day argument spiraled out of control.
Brooke's attorney Yale Galanter tells the Web site that his client wants to work on "resolving the conflicts" in their marriage.
Article continues below advertisement
Sources close to Brooke say she was told by Charlie's people that if he goes to prison, there will be no money for her and no child support money for their nine-month-old twins Bob and Max.
Radar Online claims that Brooke will try and earn the money by keeping Charlie out of jail, but there are rumors that once everything is paid out she'll still file for divorce.