NEWS
REPORT: Desperate Attempt to Resuscitate Brittany Murphy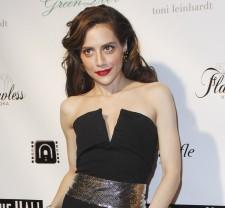 Brittany Murphy's husband and mother made a frantic attempt to revive her before paramedics arrived, according to notes written by an investigator from the L.A County Coroner's office, reports TMZ.
The Web site also claims there were a large number of prescription medications on Brittany's nightstand.
TMZ has seen the documents, written by Investigator Blacklock, and according to his notes Brittany, 32, "had been complaining of shortness of breath and severe abdominal pain" for seven to 10 days prior to her death.
Article continues below advertisement
According to the notes, the Clueless star went into the bathroom at around 7:30am on Sunday and shut the door.
Half an hour later Brittany's mother, Sharon Murphy, went to check on her daughter and opened the bathroom door and "discovered the decedent lying on the floor unresponsive."
According to the notes, Sharon cried out for help. Brittany's husband, Simon Monjack, who was in bed, heard the screams and ran to the bathroom.
The notes say that Sharon called 911 and Simon "attempted to revive the decedent by placing her in the shower and running the water."
The notes continue — "The decedent remained unresponsive and purged her stomach contents prior to the arrival of the paramedics."
When the paramedics arrived, Brittany was "without signs of life."
Paramedics moved the actress from the bathroom to the master bedroom, where they found a collection of prescription drugs.
Article continues below advertisement
The document says: "A check of the nightstands revealed large amounts of prescription medication in the decedent's name.
"Also noted were numerous empty prescription medication bottles in the decedent's husband's name, the decedent's mother's name and unidentified third party names."
According to the notes, the medications included Topamax (anti-seizure meds also to prevent migraines), Methylprednisolone (anti-inflammatory), Fluoxetine (depression med), Klonopin (anxiety med), Carbamazepine (treats Diabetic symptoms and is also a bipolar med), Ativan (anxiety med), Vicoprofen (pain reliever), Propranolol (hypertension, used to prevent heart attacks), Biaxin (antibiotic), Hydrocodone (pain med) and miscellaneous vitamins.
The notes say, "No alcohol containers, paraphernalia or illegal drugs were discovered."
According to the notes, "The night prior to her death, the decedent had consumed some noodles, leftover Thai food, Gatorade, water and tea with lemon."
The notes also say Brittany had a history of hypoglycemia and was hospitalized in April 2009 for low blood sugar while on location in Oregon.
Simon told the investigator during the seven to 10 days prior to her death, Brittany complained of shortness of breath and severe abdominal pains but he was not overly alarmed because "she often suffered from severe menstrual pains."
The investigator spoke with police at the scene, who told him "foul play is not suspected."