NEWS
REPORT: 'Gossip Girl' Cast Gets Rowdy at NYC Restaurant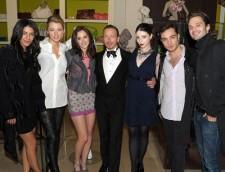 Looks like the Gossip Girl cast parties hard on and off set — while also carrying on the rich kid temperament of their on-screen counterparts. According to a new bit of gossip, the pack—led by Leighton Meester and Ed Westwick—acted rowdy on Tuesday night at Philippe restaurant in NYC.
The cast was loud, cursing and talking which led to customers complaints, a witness at the restaurant told the NY Post.
Article continues below advertisement
The situation heated up when one man at a table of lawyers and investment bankers politely asked Leighton to watch her language, and she responded brashly, "f - - - you! How dare you tell us to keep it down?"
"Other girls in their party were being really nasty, too," the source continued.
To mediate the situation, Ed made a plea for peace.
"Don't worry about my friends," he said. "We should all be happy. Let's hug it up, guys."
The source took the opportunity to hug Ed.
The actors reps and Philippe staff declined to comment.
Earlier that evening, the cast joined together at Henri Bendel's in NYC to celebrate the publication of You Know You Want It.
Eric Daman — costume designer for the hit CW show — wrote the book about style, inspiration and confidence. Leighton, whose on-screen character, Blair Waldorf, is always dressed in the latest and greatest, appropriately contributed the foreword.
Missing at the event were Chase Crawford and Penn Badgley, leaving Penn's girlfriend Blake Lively to fly solo.