NEWS
Report: Halle Berry Claims Gabriel Aubry Put Their Daughter at Risk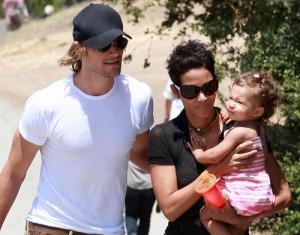 Looks like the custody battle between Halle Berry and ex Gabriel Aubry is just beginning. According to recent reports, Halle isn't backing down, and now claims Gabriel has put their daughter, Nahla in harms way.
On one side of the custody war, Gabriel claims Halle would call him in a jealous rage last year while he was dating someone else, TMZ reports. He also claims when he was taking care of Nahla last year while Halle was on set, she would neglect to show up and take care of their girl.
Article continues below advertisement
The report also states that Gabriel has made reference to Halle caring more about dating — she is currently been seen riding on the back of actor Olivier Martinez' motorcycle and on other romantic rendezvous — then spending time with Nahla.
But Halle won't go down without telling her side of the story.
OK! NEWS: HALLE BERRY GOING TO COURT TO FIGHT GABRIEL AUBRY FOR CUSTODY?
According to TMZ sources, Halle claims Gabriel is the jealous and irresponsible one.
And on the most serious level, Halle alleges she has reason to believe Gabriel put Nahla immediate harm's way by no paying attention to her.
We have a feeling this feud is far from over.