NEWS
Report: Has Amy Fallen Off the Wagon?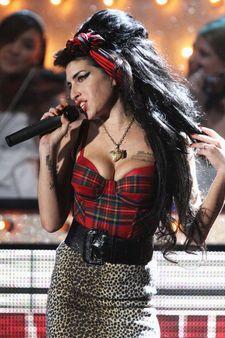 It seems like Amy Winehouse has the world at her feet. She's got five Grammys, successfully completed rehab and has a new line of beauty products coming out. But despite all the positive things going for her, it seems Amy just can't get it together, proving perhaps once again just how hard it is to kick a drug addiction.
Britain's The Sun is reporting that the soulful singer's friends are begging Amy to go back to rehab, fearing that she is "getting back to her worst."
Article continues below advertisement
A friend of the singer said, "Amy's in an awful state again — she's clearly on drugs. Many of us think full-time residential rehab is the only option, but she won't go back."
Amy's family and friends have reportedly held crisis talks this week after photos of her surfaced revealing numerous scratches on her left arm. The 24-year old has a history of self-harming while high on drugs. She also displayed mystery marks and spots on her knuckles and hands during a shopping trip in London this week where witnesses say she stocked up on candy and sweets.
"Everyone who's seen her in the last week or so has been really disturbed by the state she's in," sources say. "It was hoped her new album and fashion range would keep her focused but it hasn't worked.
Even Amy's beloved incarcerated hubby, Blake Fielder-Civil, has reportedly threatened to ban her from visiting him because he is convinced she is still taking crack cocaine. The pair got into a fight at London's Pentonville Prison over the weekend when Blake told Amy "not to bother" making any more visits after she turned up an hour late.