NEWS
Report: Jesse James Ditches Rehab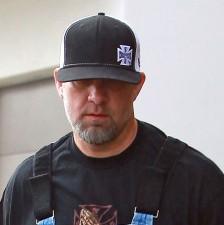 Jesse James has reportedly stopped his rehab regimen after about one week into a 45-day program, E! Online reports.
Why the sudden departure? "To deal with personal issues" and save his failing marriage, according to E! Online.
Jesse allegedly ended his stint at Arizona's Sierra Tucson clinic over the weekend amid numerous reports that Sandra Bullock is prepping for divorce.
Article continues below advertisement
However, the alleged reason for Jesse's quick departure revolved around the intrusion of media more than pending divorce papers.
"He was fed up with all the media leaks from inside. He had privacy and security concerns," a source told E!.
Jesse reportedly remains enrolled in "a program," according to the E! insiders, who couldn't specify where or what kind.
The Sierra Tuscon rehab facility declined to comment, due to privacy restrictions. Jesse's lawyer, Joe Yanny, is also remaining tight-lipped.
James entered treatment on March 26.
"Jesse checked himself into a treatment facility to deal with personal issues," his rep confirmed days after Jesse sought help. "He realized that this time was crucial to help himself, help his family and help save his marriage."
Article continues below advertisement
Jesse's lawyer has since spoke out, referring to Jesse as a "broken man."
"The single most important thing to Mr. James and the children is that the marriage somehow survive," he said.
Sandra has been hiding in Her Hollywood Hills home.
The Oscar-winning actress has reportedly prepared divorce papers against her allegedly unfaithful husband.
"Her attitude toward Jesse hasn't softened since she found out he was cheating on her," a source told Radar Online. "She's been betrayed and cheated on and she's not getting over that."