NEWS
Report: Jesse James' Mistress Wasn't Secretive About Affair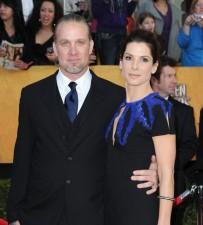 Details continue to emerge about the alleged indiscretions of Sandra Bullock's husband Jesse James. Jesse's alleged mistress, tattoo model Michelle "Bombshell" McGee, did not try to keep their affair a secret, Radar Online reports.
Michelle revealed information about her steamy affair with Jesse — which she claimed lasted 11 months while Sandra was busy in Atlanta filming her Oscar winning role in The Blind Side — last year before reports began to surface about his infidelity.
Article continues below advertisement
"She told me that she and Jesse were together... this was around May, 2009, or just prior to that," Danielle Dee Madrano, owner of the adult Web site SoCalGlamourGirls.com, told Radar Online.
Michelle used to advertise herself on SoCalGlamourGirls.com and last summer was one of the featured girls on the site, coined Michelle "Bombshell."
She is a mother of two and reportedly a stripper, according to Radar Online.
"She told me that Jesse's marriage to Sandra Bullock was for publicity, and that's why he did Donald Trump's show, Celebrity Apprentice," the owner of the site continued. "He never called on Sandra for money or influence because their marriage was a sham, she said."
Article continues below advertisement
The site is self-described as an "outrageous online magazine and a sexy social network site where beautiful bikini models, sexy school girls and topless glamour models are on live video 24/7 chatting with their online fans," via Radar Online.
Michelle is no longer active on the site, but according to her former boss, she engaged in private online chats withe Jesse last year.
He would log in under an unknown screen name.
Sandra was certainly the golden girl this award season and continually thanked Jesse during acceptance speeches — for always having her back and being supportive.
One of her most touching "call-outs" to the Monster Garage star may have been at the SAG Awards on Jan. 23 when she accepted her award for Female Actor in a Leading Role for The Blind Side.