NEWS
Report: John Edwards & Rielle Hunter Getting Married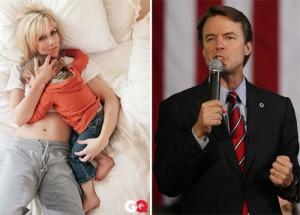 After much speculation about the status of their relationship, John Edwards allegedly asked his mistress Rielle Hunter to marry him, according to a recent report.
The National Enquirer reports (via the Huffington Post) that the democratic senator and former presidential nominee will marry Rielle, his mistress who he has a 2-year-old daughter Quinn with, at some point this summer.
Article continues below advertisement
While the Enquirer gets credit for breaking the bombshell story about John's tryst with Rielle, the report lacks originality as the publication printed a similar story this time last year about a Edwards/Hunter union.
Rielle recently opened up to GQ magazine about her feelings for John and their affair.
"I feel comfortable talking now, because Johnny went public and made a statement admitting paternity," she said in the GQ interview about finally opening up on their relationship.
"I didn't feel like I could ever speak until he did that. Because had I spoken, I would have emasculated him. And I could not emasculate him. He's very supportive of me talking now."
She also admitted to still being in love with him.
"I do know that I love him and that love is till death do us part, and probably beyond, she says. "We have a child together, so at the very least we will be co-parents together."
John' wife, Elizabeth Edwards, died last month after a heroic battle against breast cancer.
She left all of her possessions to her three children.