NEWS
Report: Jude Law & Kimberly Stewart Caught in Lip-Lock!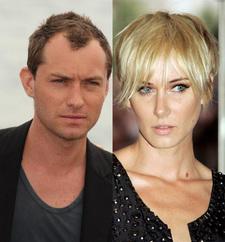 With beauties like Sienna Miller and Sadie Frost on his list of conquests, actor Jude Law has always had quite the reputation for being a ladies' man. And according to some fuzzy photos published by British paper The Sun, he appears to have his eyes — or rather lips — targeted on Hollywood socialite Kimberly Stewart.
According to witnesses in the club, the actor and the daughter of rock legend Rod Stewart were seen playing kissy-face in the VIP area of 195, an English nightclub in Essex near Kim's family mansion.
Article continues below advertisement
The woman who snapped the pix tells The Sun that Jude was none to pleased to be photographed and attempted to delete the images from the camera — though apparently not with much success.