NEWS
Report: Lady Gaga Fan Greyson Chance Signs Record Deal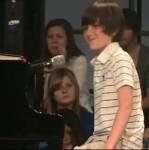 Who would have thought that performing in a middle school talent show would lead to a deal signing with Interscope Records? Greyson Chance, a 12-year-old sixth-grader from Edmond, Okla. put up a video of his performance from a school talent show on YouTube in late April. After just over two weeks, Greyson's video of "Paparazzi" by Lady Gaga has already nabbed him 16 million views and reportedly, a record contract!
Article continues below advertisement
He chose to recreate Lady Gaga's version and put his own spin on the song by playing the piano as accompaniment.
OK! VIDEO: SIXTH GRADER UPSTAGES JUSTIN BIEBER & LADY GAGA
Ellen DeGeneres caught the video and immediately flew him out to L.A. for an appearance on the May 13 episode of The Ellen DeGeneres Show.
Lady Gaga made a surprise phone call during the show, which totally blew Greyson's mind! After all, Lady Gaga is his idol so he seemed thrilled to speak to her.
OK! VIDEO: LADY GAGA CALLS SIXTH GRADER GREYSON ON' ELLEN'
He admits to never have taken any singing lessons in his life, which is hard to believe!
After signing his deal with Interscope records (according to JustJared Jr. and other media outlets) we're left to wonder — could Greyson could be the new Justin Bieber?
Check out Grayson in action:
By Alyssa Metsky