NEWS
Report: Madonna & A-Rod Go Home Shopping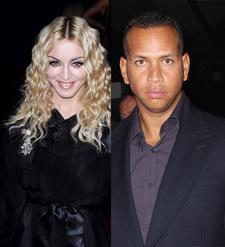 Days after their sort-of coming out as a couple over the weekend in Mexico City comes a report that Madonna and her baseball-slugging beau Alex Rodriguez are in the market for a Manhattan abode to call home.
According to a story in Tuesday's New York Post, the non-couple couple are "discreetly looking at properties" in NYC's ritzy Upper East Side neighborhood.
"Madonna personally came to look at one house a couple of months ago, and Alex has been looking recently," the story quotes an insider as saying. "We're talking about private, double-width mansions in the vicinity of $30 million to $60 million."
Article continues below advertisement
Not surprisingly, A-Rod's rep has denied the rumor to the paper.
Madge and the Yankee's All-Star have been the worst-kept secret in coupledom since each split from their spouses amid rumors of infidelity in the fall.