NEWS
Report: Michael Jackson Wants to Adopt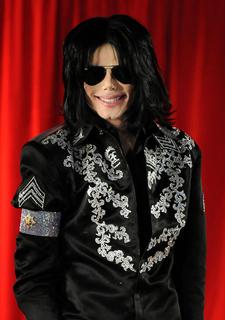 It seems Michael Jackson is busy with more than his British concert dates – a new story says he's also looking to adopt a child. He's already dad to three kids, Prince Michael I and Paris, from his marriage to Deborah Rowe, and Prince Michael II, aka Blanket.
The Sunday Express cites a source who says, "His life is his children. Wherever he goes, they go, and he has said it would be good to have another child. Contact has been made with an adoption agency in Britain which has a very good reputation."
Article continues below advertisement
(We're sure the adoption agency has a good rep, but does anyone else remember a little "Blanket over the balcony" incident)
The impetus for this latest excursion into fatherhood could be fellow legend and adoptive parent Madonna the source says.
"It could be that he was inspired by Madonna who adopted a little African boy but nobody really knows what kicked this all off."
Regardless, it seems Jacko feels right at home across the pond... perhaps as he mourns his old home, Neverland Ranch.
"He senses he is viewed differently here than he is in the States. Before his concerts he has said he wants to spend at least three weeks in Britain, getting used to the time zone and exploring the country," sas the source. "It is during this period that he wants to have meetings about adoption. He has not said if he wants a boy or a girl, just that it would be good for the family to have ­another brother or sister."
Meanwhile, before any kind of papers go through giving him control over a child, Michael has given the Harry Potter stars permission to go backstage at his show at the 02 stadium in London on July 8, The Sun reports.
We have a yucky feeling about all of this.