NEWS
Report: A-Rod Donates to Madonna's Charity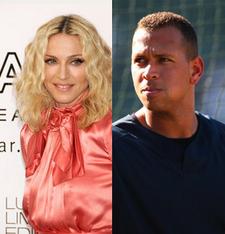 It looks like baseball superstar Alex Rodriguez's "friendship" with Madonna is going to be eating into his megabucks paycheck. According to a report in the New York Daily News, the Yankees slugger is set to make a whopper of a financial gift to Madge's Malawi charity.
The story claims that A-Rod is writing a check for $500,000 to Raising Malawi, the charity set up by the Material Girl to help the 1 million orphans in the African nation where Madge adopted her son David in 2006.
Article continues below advertisement
While the charity's director Philippe van den Bossche would neither confirm nor deny reports of A-Rod's generosity, he did deny reports that money from Raising Malawi is being used to start a school with a curriculum based around Kabbalah.
"It will be based on the British system," explained van den Bossche to the Daily News. "We want programs that can be copied in developing countries throughout the world... Not just a celebrity one-off."