NEWS
Report: Ryan Reynolds & Scarlett Johansson Split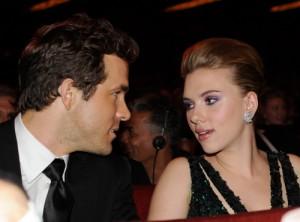 If the "Sexiest Man Alive" and "Babe of the Year" can't stay together, then who can? Ryan Reynolds and Scarlett Johansson have reportedly separated after two years of marriage.
According to TMZ, the gorgeous couple have been living apart, and the split has been civil.
Ryan, 34, and Scarlett, 26, were married in September 2008, and the couple is known for keeping their marriage as private as possible.
Article continues below advertisement
Ryan covered the October issue of GQ magazine — the publication that recently named Scarlett "Babe of the Year" — and talked candidly about keeping their relationship under wraps.
OK! NEWS: RYAN REYNOLDS ON MARRYING SCARLETT: I'M A LITTLE MORE GUARDED
"Things change when you get married in general. But in terms of being a couple that's in a public situation and speculated about and all that nonsense, it's changed a little bit," he explained. "I'm a little more guarded, I think. I'm a little bit more wary of having my relationship turning into a soap opera. I've just unilaterally not addressed it. That's kind of been the fail-safe for me."
He also addressed those who think Scarlett's reference to Ryan as "my Canadian" during her acceptance speech for her Tony Award in June was due to her fear of using the word "husband" in public.
"No, I think that's just a cute moment between a husband and wife," he shared. "People can turn it into whatever will sell the story, the magazine. They can say whatever they want to say. That's fine."