NEWS
REPORT: Sandra Returns to L.A. To Confront Jesse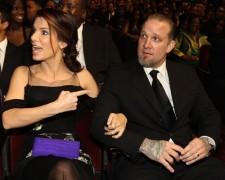 Sandra Bullock has reportedly flown from Texas to California to begin the divorce process from Jesse James following his alleged infidelity, PopEater reports.
"It's over," a friend of Sandra's told PopEater. "After everything that has happened, it is impossible for them to get back together, even though I'm sure she still loves the man she thought he was."
Article continues below advertisement
According to Radar Online, Sandra is already back in the Hollywood Hills home she lived in prior to her marriage with Jesse, that she never sold.
Neighbors reportedly have been buzzing about all the activity at Sandra's house with cars coming and going in the last few days.
"Sandra has returned home to face the problem head-on. She isn't the sort of woman to bury her head in the sand and hope everything will go away," said an insider. "As painful as this is going to be, expect Sandra to cut out the cancer very soon."
After winning an Oscar for her role in the Blind Side this year, Jesse was caught cheating with up to four women, including Michelle McGee and Brigitte Daguerre.
Jesse has tried to smooth things over Sandra, but to no avail, a source told OK! recently.
"She's still leaving him," the insider said. "Sandra is devastated."