NEWS
REPORT: Sheen Spat Started Over Song for Sam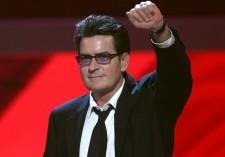 It looks like the Christmas-morning argument between Charlie Sheen and wife Brooke Mueller that ultimately landed the Emmy-winning actor behind bars to face possible assault charges might have started over something as inconsequential as a song.
According to E! News, the couple began arguing about a special holiday song that Charlie shares with his 5-year-old daughter Sam, whose mother is his ex-wife Denise Richards. E!'s source says Brooke, who recently gave birth to Charlie's twin sons, Bob and Max, wanted to know why she and Charlie didn't have a special song of their own.
Article continues below advertisement
"Charlie says she is really jealous of his daughters, especially after he and Denise finally started getting along," the article quotes the source as saying. "Obviously the fight wasn't just about the song... Nothing excuses what Charlie may have done, but there's more there."
This news comes on the heels of the newly released 911 call Brooke made on the morning of the incident. On the tape, a distressed Brooke claims that she was threatened by a switchblade-wielding Sheen, though she does not have the opportunity to describe what caused the blow-up.