NEWS
Report: Speidi Still Trying to Quit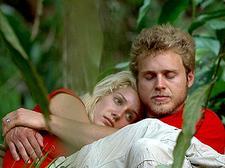 After much back and forth over the weekend, as Heidi Montag and Spencer Pratt tried to quit I'm a Celebrity... Get Me Out of Here! the blond duo may have finally walked away from the NBC reality show's set for good.
TMZ reports that the couple just couldn't handle the reality of the jungle (much different than The Hills kind of reality) and walked off the set last night after the live part of the show.
Article continues below advertisement
No comment yet from Speidi's team, so we'll assume they're going to return to the show soon.
Insiders on the reality show, which plunges a group of diverse celebs into the heart of the Costa Rican jungle, reveal to OK! that on Saturday, Speidi "walked out of the jungle, took their microphones off and quit."
They then had a change of heart and came back, heading back into the jungle on Saturday night. But it wasn't to be a long-lived reunion with nature.
"They made it through the night," says one source. "but then on Sunday morning they walked back over the bridge to exit the jungle and head home."
Guess what they did then? Return to the show, only to quit again last night.
Stay tuned!