NEWS
REPORT: Tiger Woods to Pay Off Rachel Uchitel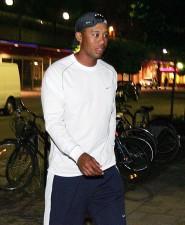 With all of the recent buzz surrounding Tiger Woods' alleged affairs, as of now totaling four women, the golf pro has decided to pay off his first mistress Rachel Uchitel, Radar Online has learned.
According to a source exclusively from Radar Online, Woods is set to give Uchitel a sum of money between $1 and $3 million dollars so that she doesn't release any more evidence regarding the fling, including any more text messages or emails the two shared.
Article continues below advertisement
Although Uchitel has hired Gloria Allred to legally represent her in the matter, Radar Online reports that after canceling a press conference last week, the saucy mistress has agreed to work on a fixed dollar amount in return for her silence.
While Rachel initially denied any rumors of being close to Tiger, Radar Online was able to corroborate the entire affair even stating that the lovers enjoyed taking sleeping pills before being intimate.
Apparently, Tiger has also agreed to pay off his wife Elin Nordegren and alter their original prenuptial agreement to ensure her more money to stay in the marriage.