NEWS
Report: Tiger Woods Spends V-Day Alone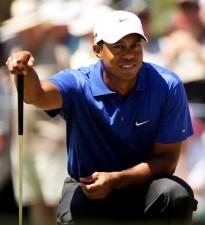 Tiger Woods had a lonely Valentine's Day. The pro-golfer allegedly spent the romantic day by himself, having no contact with his wife Elin Nordegren, or his two children, Radar Online reports.
The couple has been living separately since Tiger's return to Orlando and the marriage is still in shambles despite Elin calling off the divorce, according to Radar Online.
Article continues below advertisement
"The marriage is very much up in the air right now," a source told Radar Online. "A few weeks ago she was determined to save it. Now that he's been home she can't bring herself to go near him. She still very, very hurt. No one knows what she's going to do. I'm not sure that she knows what she's going to do."
Elin, sans wedding band, spent her night Saturday out with friends, celebrating a birthday at Dolphin hotel in Orlando, and told Tiger not to join her.
"Valentine's Day was not a day for Elin and Tiger to be close," a source told Radar. "They had no physical contact. She pretty much only sees him when she drops off the kids for him to see."