NEWS
REPORT: Tiger Woods' Wife is in Talks with a Divorce Lawyer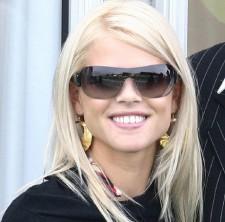 Tiger Woods' wife Elin Nordegren is talking to a divorce lawyer and planning on separating from Tiger after Christmas, says Britain's News of the World. The report claims that Elin wants the holidays to appear as normal as possible for their two children with the family together in Sweden, but in the new year she'd like a trial separation.
The report cites an anonymous friend of Elin who says she will be moving back to Sweden permanently and that she is no longer in a hurry to file divorce papers and money is not her main concern.
Article continues below advertisement
According to the report, Elin had no idea Tiger was cheating and has been so stressed by the situation that she's losing a lot of weight.
The report also makes the claim that Tiger is still talking to his latest mistress Rachel Uchitel and that Elin believes that is his main woman. The report also cites Elin telling Tiger to talk to his therapist and not her suggesting he may be getting some kind of therapy right now.