NEWS
Reports: Both Beckhams In Talks To Work In UK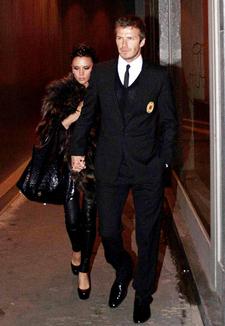 Could the Beckhams' American adventure be drawing to a close already?
Separate newspaper reports in the UK today say that both David and Victoria Beckham -- who moved here in 2007 -- are in talks to work back in Europe next year.
According to the Sun newspaper, a boss at AC Milan, the soccer club where Becks is playing while LA Galaxy are on a break, says that he wants to keep him on permanently -- and claims Beckham's lawyers are talking it over with Galaxy.
Article continues below advertisement
Meanwhile, the Daily Mail says that Victoria is in "advanced talks" with Simon Cowell to become a judge on the British version of American Idol.
Of David's potential deal, the vice president on the Italian team, Adriano Galliani, said: "We are looking to get him either on loan until the end of the season or on a permanent basis."
"If Galaxy show themselves to be ready to look at a deal, we would be really happy to do so."
Beckham's US team had a disappointing season in 2008, failing to make the MLS post season. In contrast, he's had a great record while on loan in Italy, scoring twice in his first six games.
Apparently his wife's people have been busy negotiating too.
The Daily Mail reports today that Simon Cowell wants Victoria to replace Kylie Minogue's sister, Dannii, as a judge on the X Factor before the new season starts in the fall.
The paper even says that the former Spice Girl has been approached by Simon before, but always put her commitments in L.A. first -- until now.
It quotes Simon spokesman, Max Clifford, as saying: "Simon speaks very highly of Victoria. I know he likes her a lot. This deal has not been mentioned to me."