NEWS
Rescued Chilean Miner Headed to Graceland!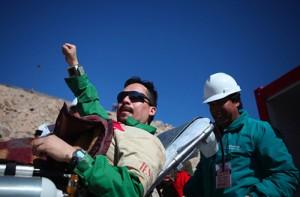 The twelfth trapped miner to be rescued from the San Jose min near Copiapo, Chile, had a special present waiting for him Wednesday when he surfaced. Edison Peña, 34, receive an invitation to visit Elvis Presley's Memphis, Tenn. home, when he emerged today after more than two months underground.
A die-hard Elvis fan, Peña helped keep morale high during as he and 32 fellow miners were trapped 22,000 feet below ground.
Article continues below advertisement
He led the strong, spirited group in Elvis sing-alongs as they waited to be rescued.
"A trip to Graceland in Memphis could be just the escape he needs after such a long period of time underground," said Kevin Kern, the spokesman for Elvis Presley Enterprises, via CNN.
Kern continued that the company and the Memphis Convention and Visitors Bureau has offered Peña an all-expenses-paid trip for two.
"He's just a true blue Elvis fan," he added. "I can only imagine that Graceland would be the trip of a lifetime."
Elvis Presley Enterprises also sent Elvis music to Chile that was passed on to Peña underground, according to Kern.
Before being trapped, Peña would run for exercise around the mines listening to The King.
"He's been listening to Elvis songs while running in the mine," he said.