NEWS
Restraining Order Tells Britney Horror Story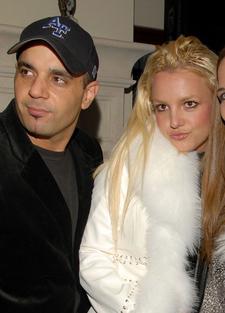 OK! has obtained a copy of the restraining order filed last week against Britney Spears' close "friend" Sam Lutfi by the singer's mother Lynne Spears, and the story told therein alleges a bizarre world of drugs and mind control.
In the 14-page document, Lynne alleges that Sam not only ground up pills to ply the singer with medication to lull her "into a sleep-induced coma" but has also "cut her home phone lines and removed her cell phone chargers," was verbally abusive and that he sees himself as the one truly in charge of Brit's life.
Article continues below advertisement
Per her sworn declaration in the restraining order, Lynne claims that Sam recently told her, "You'd better learn that I control everything. I control Howard Grossman, Britney's business manager. I control her attorneys and the security guards at the gate. They don't listen to Britney, they listen to me."
Sam also allegedly warned Lynne that "if he weren't in the house to give Britney her medicine, she would kill herself," adding ominously, "if you try to get rid of me, she'll be dead and I'll piss on her grave."
Speaking of medication, when Britney told Sam she didn't like the pills she was being given, he allegedly responded, "If I told you to take 10 pills a day, you should do what I tell you to see your babies."
Sam also revealed to Lynne and her friend Jackie, who accompanied Lynne to the house, that he has been secretly drugging the 26-year-old.
"Sam told Jackie and me that he grinds up Britney's pills, which were on the counter and included Risperdol sic and Seroquel. He told us that he puts them in her food and that was the reason she had been quiet for the last three days (she had been sleeping). He told us that the doctor who is treating her now is trying to get her into a sleep-induced coma so that they could then give her drugs to heal her brain."
Article continues below advertisement
Risperdal is an anti-psychotic medication and Seroquel is used to treat bipolar disorders.
According to Lynne, when she flew from Louisiana to L.A. on Jan. 28 to stage an intervention with her daughter, Sam had unleashed an angry tirade on Britney, calling her "an unfit mother, a piece of trash and a whore... that she does not deserve her kids."
Lynne's declaration also claims that Sam "disabled all of Britney's cars." Brit's mom then states that Sam is in league with some members of the paparazzi, who according to Lynne, "treated Sam like a general."
Lutfi allegedly showed his jealousy toward Brit's current boy-toy Adnan Ghalib by trying to convince the pop star that her photog beau is actually a homosexual.
For his part, Adnan told Lynne that Sam hides Britney's phones and tells her he lost them. Even worse, Adnan claims that Sam would hide the singer's favorite pet dog London so he can pretend later to find the pooch and "act like her savior."