NEWS
Resurrection of Girl Talk: 'All Day' Album Released For Free Download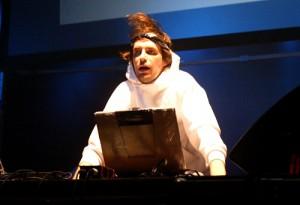 The mash-up mastermind Gregg Gillis is finally back with Girl Talk's latest album, All Day. The infamous Pittsburgh DJ has released his new album in full, the first to follow his 2008 "Feed The Animals." And the best part? You can download it for free — right now!
The album became available for free download this morning on the Web site of Gregg's label, Illegal Art.
Article continues below advertisement
"All Day is intended to be listened to as a whole," a statement on the Illegal Art website reads where fans can download. "It is broken up into individual tracks only for easier navigation."
According to Billboard.com, Gregg took a break from touring to record the 12-track album, which is a compilation of 373 samples from artists including: Rihanna's "Rude Boy," Black Sabbath's "War Pigs," Waka Flocka Flame's "Hard In Da Paint" and Cyndi Lauper's "Time After Time" are just some of the songs mashed together in the 71-minute-long album.
Check out the track list of "All Day":
01. Oh No
02. Let It Out
03. That's Right
04. Jump on Stage
05. This Is the Remix
06. On and On
07. Get It Get It
08. Down for the Count
09. Make Me Wanna
10. Steady Shock
11. Triple Double
12. Every Day
A look back at Girl Talk "Feed the Animals" Part. 1