NEWS
Review: 'How To Be Famous' by Heidi Montag & Spencer Pratt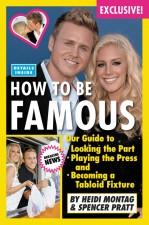 "What you are about to read is our no-fail, no-nonsense (well, some would say it's ALL-nonsense) insider's guide to take you from nobody to notorious."
The introduction of Heidi Montag and Spencer Pratt's book (yes, they wrote a book) How To Be Famous: Our Guide to Looking the Part, Playing the Press and Becoming a Tabloid Fixture pretty much sums up the tone of their book. Speidi let you know that they are completely aware and make no apologies for being self-absorbed, self-serving and self centered — making their new "how-to" tolerable, and at times, amusing.
Article continues below advertisement
Heidi and Spencer present a 10-step plan on how to go from nobodies to notorious , the way they claim they did it themselves. They never mention names of the show they are on or their enemies due to "you know, legal stuff," but it's easy to figure out who they mean.
The "top-secret" book is laid out in 10 chapters written by Spencer, Heidi or Speidi the entity. There are plenty of black and white paparazzi pics of the pair sprinkled throughout as well as a collection of colored photos in the middle. The book is only 128 pages long and can easily be read in a few hours — one thing you can thank Speidi for!
Spencer shares a "Guide to Playing the Villain" and acknowledges that, "Given how the general public feels about me, the chances are that if you're reading this right now, you can't stand me. I get it. If I weren't me, I'd HATE me."
Heidi explains why "Getting Work Done Is Your Job" and details which procedures you should have done if you want to be famous. "There is no surgery you can get that will get you more instant attention, and you know why? Because people are ALREADY staring at your boobs!" she writes.
Article continues below advertisement
Each chapter include pictures that act out —really putting their Hills skills to the test — what they are talking about. For example, Heidi gives readers step-by-step picture instructions on "How to Say 'I Hate You' Without Saying a Word" in her "Guide to Playing the Bombshell" chapter.
The most refreshing thing about this book is that it can be read (and probably should be read) as a joke. They acknowledge that they are ridiculous and that celebrity culture in general is ridiculous.
It might have been better if they had just written a book about their side of the story, because it's hard — okay, impossible — to take their advice on "how to be famous" seriously.
However, they do make some good points: Paparazzi should be a celeb's friend because after all they do help their career; celebs shouldn't wear sunglasses if they want to make covers and they should share their stories if they want to build their brand.
If their goal for the book is to entertain people (and charge $19.99 a book) by mocking themselves and other celebrities, then this book is a resounding success.
How To Be Famous is available everywhere Nov. 16.
CHECK OUT SOME PICS FROM THE BOOK: