NEWS
Review: The Rentals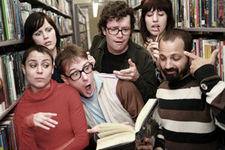 With a new LP, Last Little Life, out The Rentals new waved it's way into the hearts and respective eardrums of the audience at NYC's Nokia Theater.
Playing some new stuff and some old stuff, leader of the pack Matt Sharp used his eccentricities to the fullest. Moog and male/female harmony heavy harmony the show left the crowd pleased.
I've seen these guys before at Irving Plaza. I felt that performance had more enthusiasm. Maybe it was the crowd that made the show less awesome than the first time. None the less, it was still fun. As you might imagine from a band as unique as the Rentals, but it was missing that certain show j'est ne ce quoi. Don't get me wrong though, opening a show with "The Love I'm Searching For" was, well, awesome.
Article continues below advertisement