NEWS
Richard Grieco Rewinds to '21 Jump Street'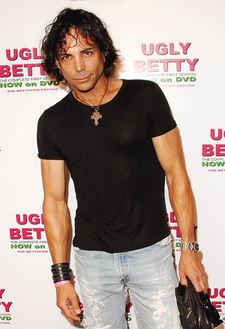 Richard Grieco is back now that he's competing for a country music deal on CMT's Gone Country, which airs Saturdays at 8/7c.
The 44-year-old bachelor hit the big time in 1988 with a role on 21 Jump Street opposite Johnny Depp.
Does he keep in touch with his former costar?
"I don't keep in touch with Johnny. Once in awhile, through people, I'll say 'hi.' We're both really busy. He's been busy, so not much. It's been years since I talked to him. I have no idea what he's like as a dad. I know he's fun. I know he's a good guy."
Article continues below advertisement
These days, Richard enjoys fatherhood.
His son, Dylan, 8, is "going to school and doing his thing." Best thing about being a dad? "I guess knowing that when you're gone, or something like that, that your legacy is being passed on," he says. "It's just a wonderful feeling to be a father and to have a kid."
Aside from Dylan, the two things that matter most to this father of one are named Harley. That's his bike – and his Boston terrier dog.
"I usually go out riding late at night when there's no traffic because L.A. has become almost like the Philippines now as far as traffic," he says. "It's so bad here with traffic. I don't think the state of California realized there would be this many people here caught up in the freeway system."
As for his dog?
"My best friend is my dog named Harley," he tells me. "It's unconditional with them. That's all the want is … they don't want anything from you. All they want is to be love – that's it. There's no ulterior motives."
Article continues below advertisement
How does he spoil Harley?
"He likes to watch Wallace and Gromit at night," Richard tells me. "I'll put him upstairs to bed first, and he likes to listen to the little waves. Just hang out. He's looking at me right now because I mentioned his name."
What advice would he give today's young stars?
"Be grateful because you can go from the penthouse to the outhouse really quick, so be grateful for what you're doing now," he tells me. "Don't take it for granted. And always stay on top of things. Once you're into it, always stay on top of things, always try to improve your craft – whether it be music, acting, directing or whatever – because there's always somebody coming up behind you. It's almost like a race. You might want to make it a marathon instead of a sprint."
What's his prized possession from his heyday?
"I have my original headband I used to wear on the show, my original cuff I used to wear, some jeans I used to wear on the show. I still have that leather jacket I used to wear on the show," he says. "I have a lot of little stuff. It's mostly wardrobe stuff. I still have my bike from Booker."
For now, Richard is looking for a new love. "I want a girl with a mind of her own, good sensibilities about her, she's gotta be pretty hot," he laughs. "Just a cool chick."
Until then, he'll bide his time. "I ride my bikes, play guitar, games, run the hill. It's really relaxing being alone up there."
Gone Country airs Saturday at 8/7c on CMT.