NEWS
Richard Roeper Takes on Pirates in Pop Culture After Latest Attack in Arabian Sea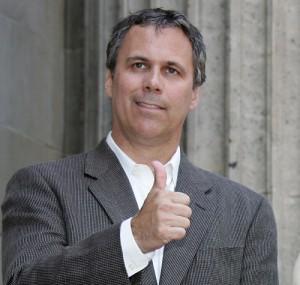 Is Richard Roeper blaming Captian Jack Sparrow for the recent Somali pirate attack in the Arabian Sea? Not exactly. The famous film critic (one half of the powerhouse duo Ebert & Roeper) took on pirates and their role in pop culture in a recent column for the Chicago Sun Times.
"We romanticize them. We laugh at their comedic antics and enjoy their songs. We wear T-shirts with logos of snarling Bucs with swords and eye patches," Roeper writes of pirates in the spotlight in his column, "Are Pirates Too Glorified in Our Culture?"
Article continues below advertisement
OK! VIDEO: WATCH JOHNNY DEPP AT HIS BEST IN PIRATES OF THE CARIBBEAN 4 TRAILER
Roeper went on to mention all the pirates American culture loves: " Johnny Depp's swashbuckling Captain Jack, from the pro baseball team in Pittsburgh, from the Tampa Bay Buccaneers to the Oakland Raiders, from the teams of Seton Hall and East Carolina University to a song from Jimmy Buffett to the Treasure Island show in Vegas."
Tuesdays, headlines blared with the tragic reports of "Four American hostages killed by pirates."
The American yachters were taking hostage by Somali pirates off East Africa and were shot and killed on Monday.
Roeper's point? If the media keeps referring to theses assassins as "pirates" will American culture shy away from "glamorizing" the often celebrated character.
"Or maybe we should just call these pirates by their true names," he suggests. "Terrorists. Murderers. Thugs."