NEWS
Ricki Lake Says She's Lost Over 8 Inches Already on 'Dancing With the Stars'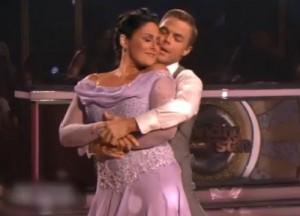 Ricki Lake has made it no secret that her main Dancing With the Stars goal is to lose weight! "Kirstie Alley inspired me to do this this season," Ricki explained to pro partner Derek Hough in the introductory clip before her debut performance on Monday's Season 13 premiere. And she revealed to reporters that she is already shedding those unwanted pounds!
Ricki delivered a strong Viennese Waltz last night, and the judges gave her a solid score of 20 out of 30.
Article continues below advertisement
"I don't want to be picky Ricki, but your footwork, I don't know what was going on in your feet," he said.
Backstage, Ricki told reporters that she has been rapidly losing inches from the long rehearsals.
"I had lost 8 ½ inches in two weeks," she shared.
Ricki has also been sticking to the Freshology diet and Tweeting with DWTS alum Kirstie to get some tips.
"She's been tweeting me because we played mother and daughter in a pilot, and I know her and love her, and I'm hoping she's going to come by and cheer me on," Ricki shared.
Next week the couple will perform the fast-paced Jive!
Catch Ricki's performance, via ABC, below!
Reporting By Amanda Champagne