NEWS
Ricki Lake Talks "The Derek Hough Diet" on 'Dancing With the Stars': "I Lost 13 Inches"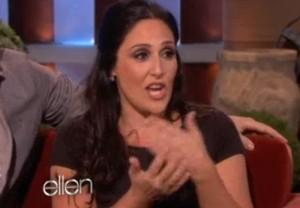 Ricki Lake is dancing her way to a slimmer figure! The Dancing With the Stars contestant and her pro partner Derek Hough chat with Ellen DeGeneres today on her show about their chemistry on the dance floor, losing inches and Ricki's charity!
"I think you look great. I haven't seen you in a while, but I read that you're losing inches," Ellen compliments Ricki.
"I lost more than 13 inches in a month — it's crazy," Ricki explains. "The Derek Hough diet is the best: I lost 5 inches in my waist, 5 inches in my hips... it's hardcore."
Article continues below advertisement
VIDEO: WATCH RICKI LAKE & DEREK HOUGH ALMOST KISS IN WINNING RUMBA ON DANCING WITH THE STARS
Ricki is engaged to Christian Evans and wants to get in the best shape of her life before her wedding.
She says she knew it would be hard work.
"They prepare us," Ricki says. "They say it's the hardest thing you will ever do and you're like, 'Yeah, yeah, yeah. I've done hard.'
"We work out all day long... we are sweating all over each other... a lot of people would feel that I'm very lucky to be in this position, but it's hard work and very fulfilling."
So far, Ricki and Derek are the ones to beat in the competition.
Catch a clip from their interview on Ellen and learn about the charity Ricki is sponsoring in the clip below!