NEWS
Ricky Gervais Bashes Kim Kardashian in His Golden Globes Opening Monologue!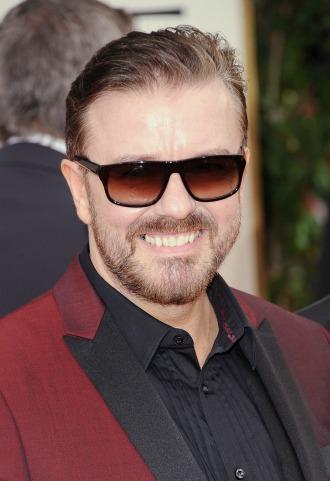 Article continues below advertisement
"The Golden Globes are just like the Oscars, but without all that esteem," Ricky said to the audience filled with Hollywood's brightest stars. "The Golden Globes are to the Oscars what Kim Kardashian is to Kate Middleton. Bit louder, bit trashier, bit drunker and more easily bought, allegedly, nothings been proved." Ouch!
Ricky also touched on Kim as he discussed the multiple, and shocking, divorces that took the world by storm this year! "What's with all the divorces?" Ricky said. "Arnold Schwarzenegger and Maria Shriver, J.Lo and Marc Anthony, Ashton Kutcher and Demi Moore, Kim Kardashian and whoever..." Hey, she should have expected it, right?
OK! NEWS: BRAD PITT & ANGELINA JOLIE: THE GOLDEN GLOBES IS A "GOLD NIGHT FOR US"
Ricky also touched on Bridesmaids, Homeland and Boardwalk Empire after he talked about the guidelines the Hollywood Foreign Press asked him to follow. "No profanity, a shame cause I got a huge vocabulary," Ricky boasted. "No nudity, and that's a shame cause I got a huge… vocabulary."
All around, Ricky did a lovely job and we're proud of him. We actually wish he did a little more bashing! Well, we'll just have to wait and see what he comes up with throughout the show.