NEWS
Rihanna is All Right With Tights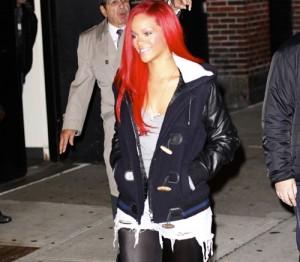 Shorts? Or tights? Ah,the age old quandary! Rihanna solved the fashion puzzle last night in NYC by wearing both, adding some shiny legwear underneath her cutoff shorts. RiRi swanned past fans and photogs outside of Late Show With David Letterman, but was gracious enough to smile and wave for those waiting to catch a glimpse of her (now longer) flame-haired locks.
OK! GALLERY: RIHANNA LENGTHENS HER LOCKS IN THE BIG (RED) APPLE
Article continues below advertisement
Rihanna's been on the red route for awhile now, but she just recently added some length in, changing her look once again.
OK! GALLERY: RIHANNA MAKES HER MOVE ON MILAN
Whether she's blazing trails through the fashion and music world with her hair or her songs, we're always happy to see the Barbadian beauty!