NEWS
Rihanna Avoids Wardrobe Malfunction on 'GMA'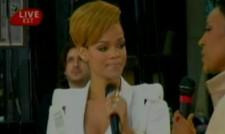 Rihanna had to laugh off a wardrobe malfunction during her TV concert on Good Morning America on Monday, E! News reports.
Right before Rihanna's live performance she experienced a little bit of a problem!
"I'm a little too fat right now, my dress… the zip busted in the back," Rihanna joked. "They're like, 'A minute to live,' I'm like, 'Oh my god!' They wanted to stitch it up, but I couldn't."
That explains the delay between Diane Sawyer and Robin Roberts' introduction for the performance and Rihanna's actual appearance on stage.
Article continues below advertisement
Rihanna recovered after the near-naked scare and pulled of an amazing performance outside of three of her hit songs including: "Wait Your Turn," "Russian Roulette," and a remix version of "Umbrella."
Her album, Rated R, was released yesterday.