NEWS
Rihanna Calls Out Sick with Flu – Will She Make the Grammys?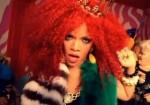 Say it isn't so! The nasty flu bug gets all of us and right now it looks like it's hit rock star Rihanna. She called out sick to perform five songs last night at a gala. Organizers were informed a few hours before the event that she was too sick to make it. Will she recover in time for the Grammys this Sunday night?
OK! NEWS: NEW COUPLE ALERT – RIHANNA'S DATING TRAVIS BARKER?
According to E! Online, she was supposed to sing at the Unforgettable Evening gala to benefit the Women's Cancer Research Fund. Merely a few hours before the event they received word that Rihanna wasn't going to be able to make it.
Article continues below advertisement
OK! NEWS: RIHANNA AND TRAVIS BARKER'S JAM SESSION
Cee Lo was available at the last minute to pinch hit for Rihanna. Her reps said, "Rihanna is so disappointed. She was excited about tonight, but has the flu and couldn't perform." Let's hope she gets better in time for the Grammys!