NEWS
Rihanna & Chris Brown Both at NBA Finals, But Not Together.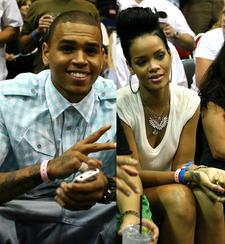 Leading up to Thursday night's Game 4 of the NBA Finals, the biggest buzz wasn't whether or not the L.A. Lakers would beat the Orlando Magic, but whether or not there would be a much-hyped public reunion between Chris Brown and ex-girlfriend Rihanna.
Before the game in Orlando, an online report had claimed that the pair had requested to be seated next to each other during the game. But when the big tip-off occurred, no such reunion had occurred.
Article continues below advertisement
The former lovers did indeed both attend the game, but each sat with with their particular group of friends and were not spotted communicating to each other in any way during the game.
CLICK THUMBNAILS FOR FULL-SIZE PICS:
<a href="http://www.okmagazine.com/pixandvids/gallery/14881/1" target="_blank"><img src="https://d-images.okmagazine.com/img/photos/large/31711.gif" height="100"/></a> <a href="http://www.okmagazine.com/pixandvids/gallery/14881/2" target="_blank"><img src="https://d-images.okmagazine.com/img/photos/large/31710.gif" height="100"/></a> <a href="http://www.okmagazine.com/pixandvids/gallery/14881/3" target="_blank"><img src="https://d-images.okmagazine.com/img/photos/large/31709.gif" height="100"/></a> <a href="http://www.okmagazine.com/pixandvids/gallery/14881/4" target="_blank"><img src="https://d-images.okmagazine.com/img/photos/large/31708.gif" height="100"/></a> <a href="http://www.okmagazine.com/pixandvids/gallery/14881/5" target="_blank"><img src="https://d-images.okmagazine.com/img/photos/large/31707.gif" height="100"/></a> <a href="http://www.okmagazine.com/pixandvids/gallery/14881/6" target="_blank"><img src="https://d-images.okmagazine.com/img/photos/large/31706.gif" height="100"/></a> <a href="http://www.okmagazine.com/pixandvids/gallery/14881/7" target="_blank"><img src="https://d-images.okmagazine.com/img/photos/large/31705.gif" height="100"/></a> <a href="http://www.okmagazine.com/pixandvids/gallery/14881/8" target="_blank"><img src="https://d-images.okmagazine.com/img/photos/large/31704.gif" height="100"/></a> <a href="http://www.okmagazine.com/pixandvids/gallery/14881/9" target="_blank"><img src="https://d-images.okmagazine.com/img/photos/large/31703.gif" height="100"/></a> <a href="http://www.okmagazine.com/pixandvids/gallery/14881/10" target="_blank"><img src="https://d-images.okmagazine.com/img/photos/large/31702.gif" height="100"/></a>