NEWS
Rihanna Ends Dallas Concert Early After Fire Breaks Out on Stage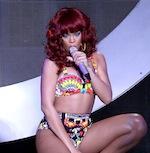 When a fire broke out on stage during Rihanna's Loud Tour last night, her Dallas concert had to be cut short, according to new reports.
"DALLAS!!! We set the stage on FYAH tonight!!! LITERALLY!!! I'm so pissed, I was havin so much fun wit yall too!!! I gotta come back man!!," Rihanna tweeted after a pyrotechnic malfunction occurred at the American Airlines Center.
Article continues below advertisement
Rihanna, 23, also added on Twitter, "Glad u guys are safe!!! I promise I'll be back!!!" of her loyal fans in Texas.