NEWS
Rihanna Is Fine, Claims Her Grandma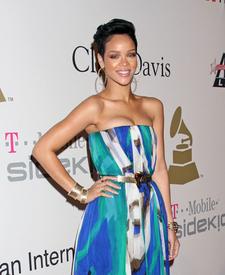 Rihanna's family in Barbados wants to let her fans know that the pop star, whose boyfriend Chris Brown was charged with criminal threats after the couple had a fight early Sunday morning, is okay.
"I don't want people to worry," the "Disturbia" singer's grandmother, Clara Brathwaite told Barbados paper The Daily Nation yesterday. "Rihanna is fine and she is doing well."
Her grandma also denies that Rihanna's nose was broken in the dispute, and the paper reported that the star herself sent a message to friends in Barbados that she was okay.
Article continues below advertisement
Rihanna and Chris fought around 12:30 Sunday morning after attending a pre-Grammy party at Clive Davis' house, which resulted in a 9-1-1 call. After both artists canceled their Grammy appearances, Chris eventually turned himself in and was released on $50K bail.