NEWS
Rihanna Fires It Up While Frowning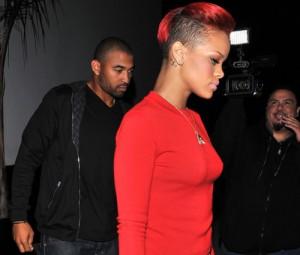 For someone who has the hair and sweater the color of raging flames, Rihanna looked far from fiery on Monday as she dined out with boyfriend Matt Kemp of the Los Angeles Dodgers in West Hollywood. Why so glum, RiRi? Turn that frown upside down!
Although Rihanna is always surrounded by fans and photogs when she's out and about, she's usually a lot cheerier.
Article continues below advertisement
Whatever the reason for her glum face, RiRi still managed to look effortlessly fabulous and ruthlessly red!