NEWS
Rihanna Hospitalized For "Exhaustion" and "Dehydration"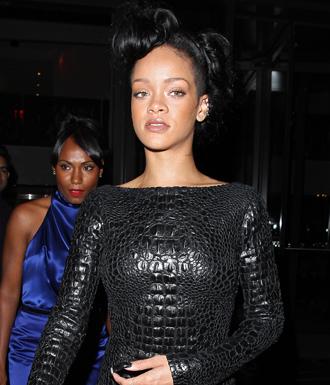 Could we have seen this coming?
Hours after Rihanna walked the red carpet at the Met Gala in NYC, she checked herself into a hospital for "exhaustion" and "dehydration." A little shocking considering the singer looked happy and healthy earlier in the evening, dressed in a sleek black Tom Ford alligator print dress. When a Twitter follower asked why she'd been so quiet the next day, she quickly posted a photo on the social networking site of an I.V. in her arm.
Article continues below advertisement
OK! NEWS: RIHANNA WILL PERFORM ON THE SEASON FINALE OF IDOL ON MAY 23
Though she was released the next day and flew back home to L.A., her latest stint in the hospital just adds to an increasing number of indicators that the Umbrella singer is out of control.
Just last month at Coachella she was pictured on top of a mystery man's shoulders appearing to roll a white substance into an emptied out cigar. This was right on the heels of her leaking topless pictures in Hawaii, and right before she posted a picture on Instagram of herself cavorting about with strippers at a Queens strip club.
Of course, none of this means she has a drinking and drug problem, but those close to Rihanna say she may need to consider rehab.
"Rihanna loves to party, but this past month she's gotten really out of control," a source tells the new issue of Star magazine. "She's been drinking almost everyday and talking about smoking weed a lot, too."
OK! NEWS: RIHANNA CONFIRMS FASHION LINE: "WORKING ON IT AS WE SPEAK"
Could her on again/off again affair with Chris Brown and his new girlfriend, Karrueche, be to blame?
"She's actually a very lonely girl," a source told RadarOnline.com. "She's been obsessed with the thought that he's going to marry Karrueche and she'll never be able to get back with him. She's heartbroken and in a bad place … she's been numbing the pain with alcohol."