NEWS
Rihanna: I Can Handle Life's Curveballs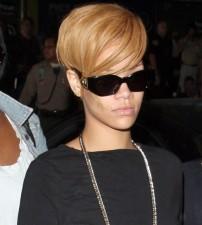 Despite all the media attention after last February's domestic abuse incident involving ex Chris Brown and her current promotion tour for Rated R, Rihanna seems to be holding up quite well, considering, even if things aren't exactly boring. "Normal? I wouldn't say normal," RiRi tells E!'s Ryan Seacrest of her life. "It's definitely more intense. Every day is another curveball, but now I know how to handle it. Every time you get put in a situation, it somehow makes you stronger."
Article continues below advertisement
Dealing with Chris and her subsequent trust issues isn't the only tough situation for her, as Rihanna reveals her dad has hurt her emotionally.
"I haven't heard from my father in over a year. I try though, I've reached out to him," she says. "He turned his back on me and went to the media and got paid to talk about stuff, like all these interviews after the situation in February."
While RiRi says she's "just too busy" for dating right now, she's not counting out a wedding in the future.
"Maybe," she admits when asked if she'd ever walk down the aisle. "Marriage is much more than a gown."
Such wise words!
While she's not dating him, one guy who has been seeing a lot of Rihanna is her pool boy — the Barbados-born singer admits the pool guy has seen her walking around naked when she forgets which days he's working, and also confirms that every woman should have naked pictures taken of them while they're still young.
If you look like Rihanna, why not?