NEWS
Rihanna & Justin Chambers Work to Help Olympic Hopeful Survive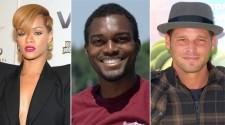 Seun Adebiyi had hopes of being the first Nigerian in the 2014 Winter Olympics, and was training hard when he was diagnosed with Leukemia. To survive, he needs to find a bone marrow donor, not an easy task. But he's not alone: celebs Rihanna and Justin Chambers are lending their voices to this inspiring 26-year-old's cause.
After Rihanna received a letter from Seun and was moved by his story, she joined his mission ito get 10,000 donors signed up with DKMS, the world's largest bone marrow donor center.
Article continues below advertisement
"Leukemia interrupted Seun's dream of being the first Nigerian in the Winter Olympics. But together we can help him make his dream come true! We need to find him a bone marrow donor! Please sign up with DKMS," Rihanna said as part of her call to action.
Justin was also inspired to help Seun survive, filming a PSA recently urging minorities to donate their marrow.
"My friend Seun is training to be the first Nigerian Olympian in the Winter Olympics but he has leukemia and needs a bone marrow match to survive. Sadly only seventeen percent of African Americans in need of a transplant will receive one. Join our mission and register with DKMS to become a bone marrow donor today," he says in the PSA.
WATCH JUSTIN & SEUN'S PSAs BELOW:
SEUN GRADUATES FROM YALE LAW SCHOOL: