NEWS
Rihanna Knows What It's Like to Be Britney Spears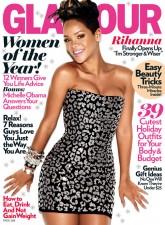 Rihanna is breaking her silence over the violent Grammy night that made her world-famous and led to Chris Brown's felony assault conviction.
"I went to sleep as Rihanna and woke up as Britney Spears," the 21-year-old tells Glamour magazine.
"That was the level of media chaos that happened the next day… The positive thing that has come out of my situation is that people can learn from that.
"I want to give as much insight as I can to young women, because I feel like I represent a voice that really isn't heard."
Article continues below advertisement
Rihanna will also open up to ABC in a two-part interview with Diane Sawyer airing Thursday and Friday on Good Morning America and 20/20.
The singer's upcoming album Rated R is her first record since 2007's multi-platinum Good Girl Gone Bad.