NEWS
Rihanna Parties Hard in the Big Apple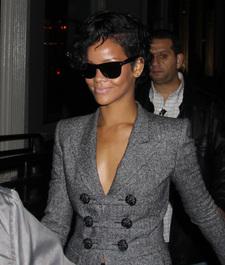 Only hours after she was first spotted out and about in NYC on Friday, the recently reclusive Rihanna was enjoying the Big Apple nightlife with pals Jay-Z and Beyoncé.
The evening kicked off for Rihanna at around 11:30 p.m. when she arrived at the downtown Manhattan home her mentor and good friend Jay-Z shares with wife Beyoncé. The trio then headed out to pick up a group of about eight girlfriends and head over to Greenwich Village hotspot The Spotted Pig, where they had the entire third floor closed down for the bash.
Article continues below advertisement
Insiders tell OK! that security was extra tight for the occasion, with eagle-eyed staff leaping on uninvited guests before they could even get close to the locked doorway that led into the party.
"People love The Spotted Pig because it's super laid-back, but it was far from it last night. Security was on red alert, and you could tell they were under strict instructions to let them party in peace," said a guest at the pub.
Perhaps that sense of security is why Rihanna was in such high spirits?
"She was in a good mood and laughing at the camera all night," a source tells OK!. "She didn't care that the cameras were taking pictures of her. She was just having a fun girls' night. She was telling her friend, 'See it's not that bad over here. In L.A. there's mad paparazzi.' She was joking with friends and walking down the street."
Around 3:45 a.m., Rihanna said her goodbyes and headed over to the W Hotel in Union Square, where she's been staying during this trip to Manhattan.
MORE RIHANNA PICS:
BY LAURA LANE & OLIVER COLEMAN