NEWS
Rihanna Parties While Chris Pleads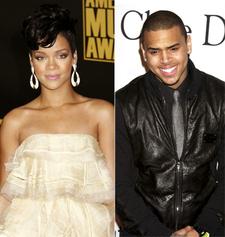 It was certainly a study in contrast — and just, maybe, a bit of payback. On April 6, a grim Chris Brown sat in a Los Angeles courtroom pleading not guilty to felony charges of assault and making criminal threats — a consequence of an alleged Feb. 8 Grammy-day attack on his girlfriend, Rihanna.
And what was the "Umbrella" singer doing while 19-year-old Chris faced the music? Days before, Rihanna jetted to Barbados to celebrate her grandparents' 50th wedding anniversary and, reportedly, get as far away from the case as possible. According to her father, Ronald Fenty, Rihanna is "back to herself" — and she looked it, partying with friends, family and even Barbadian Prime Minister David Thompson.
Article continues below advertisement
"She was in a really good mood and having a really great time," a source tells OK!. "She was mingling with everyone,and just really happy."
TMZ reports that RiRi was spotted grabbing a flight out of Barbados last night with mom Monica Fenty, and appeared in good spirits.
Thus far, Rihanna has remained mum about the case, and it's unclear whether she'll testify against her R&B-singer beau. If found guilty, Chris could face anything from probation to almost five years in prison.