NEWS
Rihanna Prepares for Stage Comeback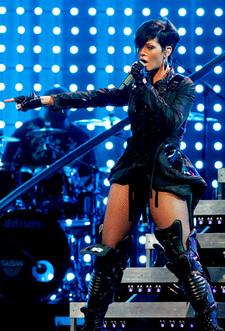 Almost three months after an altercation with boyfriend Chris Brown left her bloodied and bruised, Rihanna is preparing to take to the stage once again, four months after her last concert on Jan 29 in L.A.
The Umbrella star will perform on May 28 in Dubai, United Arab Emirates, E! News reports.
"There will be over 25,000 tickets available," says Mary Rachelle Cherpak, a spokeswoman for Dubai Tourism. "They will be going on sale in the next couple of days."
Article continues below advertisement
As for the venue, that has yet to be determined, but Cherpak says Rihanna's stage will most likely be special.
"Normally they create a special stage in the desert for these events," she explains.