NEWS
Rihanna Really Revs Up for the Holidays in Red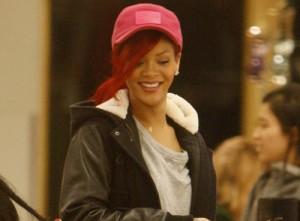 One way to sass up your hairdo if you're having a bad hair day? Just find a hat that matches the shade of your locks like, exactly. Not that we would ever accuse the lovely red-happy Rihanna of having anything other than a perfect head of hair, but her hat did seem to have gotten the same dye job her strands did.
OK! GALLERY: RIHANNA IS ALL RIGHT WITH TIGHTS
RiRi headed out to Saks Fifth Avenue in Beverly Hills on Tuesday to do some shopping, although from the looks of the shoes she was sizing up and the lip gloss she tried on, she was getting some gifts for herself!
Article continues below advertisement