NEWS
Rihanna Says She's Single: "I Have Not Been on a Date in Forever, Like Two Years"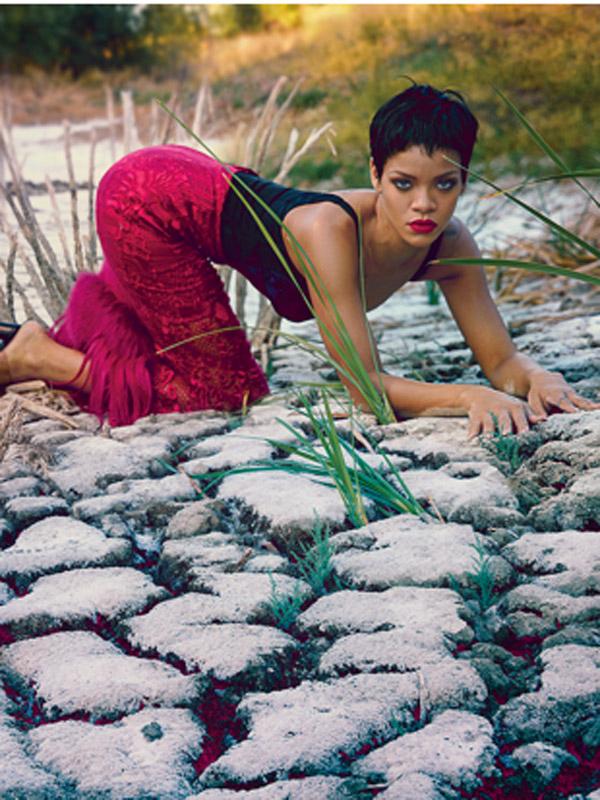 With all the Chris Brown and Rihanna sightings lately, it seemed like the pair might get back together, especially since Chris broke up with his girlfriend Karreuche Tran so he could be friends with his ex, but Ri, who graces the November cover of Vogue tells the magazine she's single.
OK! GALLERY: MILEY CYRUS, RIHANNA AND ANNE HATHAWAY SHOCKINGLY CHOPPED THEIR HAIR!
"I have not been on a date in forever . . . Like two years. Haven't gone to the movies, to dinner. Zero. I would love to go on a date," she says. "You don't think that? I'm a woman. A young woman, vibrant, and I love to have fun. And I have too many vaginas around me at this point."
Article continues below advertisement
The "We Found Love" singer admits she's not looking for a commitment at this point from someone, she just wants to have a good time.
OK! GALLERY: RIHANNA IS ALL SMILES AS SHE ARRIVES AT A RECORDING STUDIO IN L.A.
"Seriously, all I want is a guy to take me out and make me laugh for a good hour and take my ass back home. He doesn't even have to come up. All I want is a conversation for an hour."
The 24-year-old is perplexed that she can't land a date and explains:
"No one asks. Trust me on that. I'm waiting for the man who's ballsy enough to deal with me. I'm going to wait, though. You always find the wrong s**t when you go looking."
In 2009, Rihanna and Chris had a very public falling out when the two got into a physically altercation that led him to plead guilty to felony assault, but the exes got friendly again and even recently worked together on a track from her last album called "Birthday Cake."
Article continues below advertisement
OK! GALLERY: RIHANNA STRIKES A SEXY POSE FOR A BARBADOS TOURISM PHOTO SHOOT
Rihanna has received a lot of criticism for hanging out with Chris again, but it doesn't seem to faze her.
"To the world, I feel like there's no closure," she says. "There's some obsession that's continued even throughout when we weren't friends or couldn't be friends at all. Hated each other. The world hasn't let go. They haven't seen any progress in our friendship, because they don't see anything, really, besides the song."