NEWS
Rihanna Seeks Solace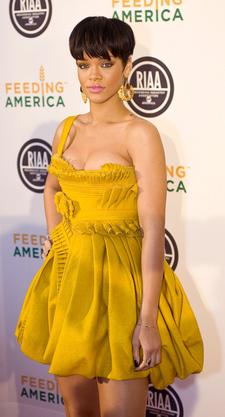 Looking back on her spectacular rise to fame, Rihanna once reflected on the greatest obstacle she'd overcome in the course of her career. Surprisingly, it had nothing to do with her music, the media or the sudden pressures of celebrity.
"The biggest challenge is being away from my family and friends and all the people that I love and am used to being around," the singer, who turns 21 on Feb. 20, told OK!. "To just throw that all away and be by myself, really, with a bunch of new people, that's the hardest part."
Article continues below advertisement
Now, during what may well be the most traumatic time in her life--the anguished aftermath of a Feb. 8 beating in L.A.--allegedly at the hands of her boyfriend, R&B star Chris Brown--Rihanna has cancelled a tour of the Far East and gone home to seek comfort in the embrace of her loved ones in St. Michael, Barbados.
"She went to Barbados at the urging of her family," a close friend, who has spoken to Rihanna since the alleged attack, tells OK!. "She wanted a sense of calm to collect her thoughts. Right now, Rihanna's been reclusive and a shell of her former self. She sounds a bit in shock that everything's ended up this way. She's just very quiet on the phone. It's like she just didn't want to talk about the incident."
As for Chris Brown, the friend says, "This is someone she loved and thought loved her. The entire incident is saddening."
For more details on Rihanna's trip home to Barbados, pick up the new OK!--on newsstands everywhere on Thursday.