NEWS
Rihanna's Six-Year-Old Friend Jasmina Loses Battle Against Cancer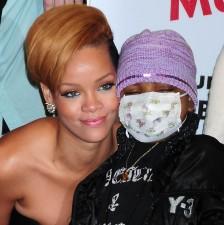 Rihanna is mourning the death of Jasmina Anema, a six-year-old who underwent a bone-marrow transplant last year after the singer helped her find a donor.
Jasmina died last night, barely 13 months after being diagnosed with NK cell leukemia, a particularly aggressive and rare form of the disease, reports E! Online.
See who Rihanna is taking to the Grammy's
"I am incredibly heartbroken that Jasmina has passed away," Rihanna said in a statement yesterday. "She was such a brave and special child. She showed more strength and spirit than many adults I have met. I feel blessed that I was able to have her in my life, and know that through her example she has saved many lives. She was truly an angel on earth."
Article continues below advertisement
Jasmina was admitted to NYU Langone Medical Center on Monday after experiencing trouble breathing. She was diagnosed as having pneumonia in both lungs and her condition quickly deteriorated.
Her mom, Thea Anema, wrote a post on the Twitter page set up for her daughter's cause last night: "At 10:55 on January 27th, after a long battle, Jasmina lost her fight with leukemia. Thanks for all of your support."
After hearing about Jasmina's plight last February, Rihanna got involved with DKMS Americas to help find a compatible bone-marrow donor for her inspirational young friend.
With help from her new celebrity pals, who included Kelly Rowland and New York Governor David Paterson, Jasmina's doctors found a match and she had the surgery in June.
Article continues below advertisement
Thanks to the Make-a-Wish Foundation, Jasmina also met President Obama."It was like they were really best buddies," Thea Anema, says. "It was just how he spoke to her, like a daddy. It was so sweet...She feels very special."
The president offered this statement today: "Jasmina showed tremendous bravery in the face of adversity, and her ability to stay positive throughout her battle was an inspiration to me and to all those she touched.
"As the parents of two young girls, our hearts particularly go out to Jasmina's devoted mother Thea. Our thoughts and prayers are with her and with all who knew and loved Jasmina."