NEWS
On The Road With Kellie Pickler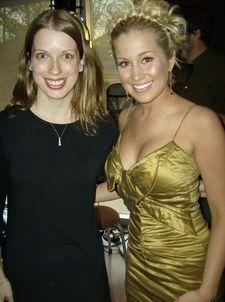 My sister-in-law LeAnn can't wait to see perform tonight at Allen County War Memorial Coliseum in Fort Wayne, Indiana. My brother Jeff isn't the biggest fan of country music but he's going anyway. ;)
While this is a highlight for them, Kellie says the most incredible day of her life was when she met Dolly Parton.
"My whole life, I thought Dolly was exactly who I would want to follow careerwise," the 21-year-old American Idol finalist tells me. "I think she's the most incredible songwriter, artist, she's done TV and film. She's what I would define as the whole package. She's my definition of an American Idol. I honestly think there's nothing that the woman can't do. I always admired her work."
Article continues below advertisement
"To meet my American Idol, and have her be just as nice and kind in person as what you see on television and read about – everything that you would envision your idol being like – she was, for me. It was really refreshing, and it's a day I'll never forget."
She's still a major fan of the 62-year-old Nine To Five icon.
"I have all her pictures on my screensaver on my computer, so every time I open it up, if I'm having a bad day, I open it up and I'm like 'I have nothing in the world to complain about.' She's an inspiration to me."